Jewish summer camping offers our youth – 3rd through 12th grade students – with a profoundly transformational Jewish experience. Elsewhere it has been shown that as part of the holy (Jewish) trinity of Jewish experiences – synagogue membership/participation, Israel trips and Jewish summer camp – summers at Jewish camp serves to instill a deep appreciation for and connection to Jewish community, identity and practice for our children. That is why my wife Michelle and I lead a delegation of our Congregation Or Ami youth every summer to the URJ Camp Newman in Santa Rosa, California.
But as I wander the camp and watch the goings on, I am increasingly convinced that as much as we focus on the poignancy of the Jewish summer camping experience for our youth, camp has an equally profound effects on another population: the adults who serve on staff and faculty.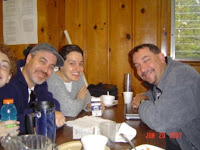 Camp Newman's population flourishes with the support of college age counselors, graduate student senior staff, Israeli post-army volunteers, as well as a myriad of volunteer doctors, nurses, rabbis, educators, cantors, artists. Most will explain that they relish the opportunity to help create a nurturing Jewish environment for the campers. Each, when invited to get personal, will confess that camp offers, and continues to offer them retreat and rejuvenation for their own Jewish souls.
Doctors and camp nurses use their own vacation time to come to camp, yet their stethoscopes (and bedside manner) get plenty of practice as they respond to cuts and bruises, the mid-summer Camp Crud, and that occasional broken toe. Discussions around the faculty dinner table regularly focus on best rabbinic practices, sermon topics, and pastoral care challenges. Betwixt and between, we share parenting tips and suggestions of how to survive the first child getting her driver's license.
Rabbinical and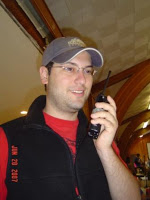 education students flock to camp, drawn by the opportunity to put into practice the Jewish values they hold so dear. Simultaneously, they discover one of the most vibrant Jewish communities outside of the State of Israel. I spoke with Josh Brown, Director of Education (overseeing program, staff, camper issues and almost everything else, it seems) about why he comes to camp. This fifth year rabbinic student, who probably should be researching his rabbinic thesis, instead works his tuchis off here at camp from early morning to late at night. A mini-Moses in his pre-Yitro days, he carries the weight of the program on his shoulders. Josh told me he comes because "I think this is an ideal world, and it rejuvenates me to live in an ideal Jewish world for ten weeks over the summer." Camp makes real the ideal. Or as the staff shirts all declare, "Camp is life, the rest is details."
Camp Newman, ever the trailblazer, even has a staff member who is the Director of Adult and Staff Education. This vibrant young Rabbinic student Jordy spends her days (and often late into the night) developing formal and informal learning opportunities for these young (and not so young) adults. Tomorrow, as part of her "Hot Topics" lunchtime series, I am teaching a session on Abortion, Stem Cell Research and Choice: When Does Life Begin and Who Cares Anyway? Her intense creativity and limitless inspiration led Jordy even convinced me (and the other faculty) to make a donation to host a delicious catered meal for those staff members who gave up their free time to come and learn.) On Sunday evening, I sit with the Israeli mishlachat (delegation) for a panel discussion on America and Israel: Issues, Perspectives, Relationships. Yesterday, five days before the program (a life-time by camp standards), Jordy handed me a list of questions to ponder.
Sometime this week, I will draft a sermon or two while sitting quietly under the tall California Redwoods. Later, I hope to take in an afternoon of wine-tasting. And of course, I will do my share of B'nai Mitzvah tutoring, service leading, bunk talks, and program brainstorming. But lest anyone think otherwise, I come back to camp each summer for one reason: Camp Newman rejuvenates my soul.