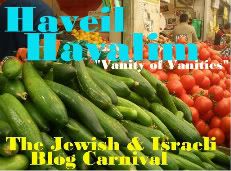 Welcome to the Loving (or Not Loving) Leah Edition of Haveil Havalim….
What's going on here today? Pop over to Ima on (and off) the Bima for the original post. (I'm copying the first paragraphs here for those of you who are still new to reading blogs.) But then jump over to Ima on (and off) the Bima to read what else is being written about in the blogsphere.
Founded by Soccer Dad, Haveil Havalim is a carnival of Jewish blogs — a weekly collection of Jewish & Israeli blog highlights, tidbits and points of interest collected from blogs all around the world. It's hosted by different bloggers each week and coordinated by Jack. The term 'Haveil Havalim,' which means "Vanity of Vanities," is from Qoheleth, (Ecclesiastes) which was written by King Solomon. King Solomon built the Holy Temple in Jerusalem and later on got all bogged down in materialism and other 'excesses' and realized that it was nothing but 'hevel,' or in English, 'vanity.'
What was really important in the J-blogosphere this week?
Loving…or not Loving….Leah, of course!
Yes, Sunday night's Hallmark movie was definitely a topic in the Jewish blogosphere this week.
Some of the posts I found:
Midianite Manna's Take
Frum Satire's Thoughts
Idol Chatter
#lovingleah on Twitter
Boston.com "Loving Leah is hard to do"
JewWishes has this to say
MyJewishLearning's blog thoughts
DovBear weighs in
BangItOut's thoughts
Mottel is Loving Lubavitchers in Hollywood.
(It's not available on DVD yet but I'm sure it will be…in case you missed it. Or, like me, only saw the last hour. Which, by the way, was enough to get the whole story!)
A very nice edition of Haveil Havalim, the Jewish Blog Carnival,
is now up over at Ima on and off the Bima. Check it out!