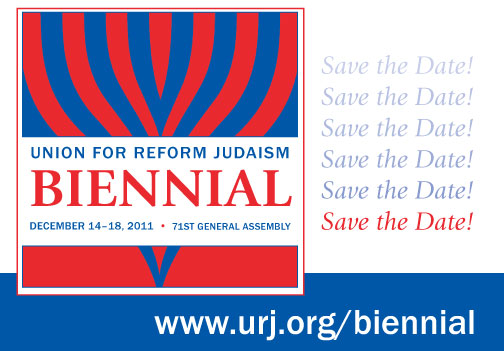 Counting the days until the Union for Reform Judaism's Biennial convention outside of Washington DC became that much more exciting
after a planning session with some colleagues. Gathering together by telephone from all across the US, we –
three camp directors, three rabbis, and one talented URJ specialist – put our
heads together to plan a biennial session on the "magic of camp." (I am a URJ Camp alum, parent of 3 campers, and Camp Newman Rabbinic Faculty dean each summer – here's my Camp blog.) Who would
have thought that just the planning process alone would illuminate why we all love
URJ Jewish summer camping so much.
Our initial plan incorporated a series of seven minutes
frontal presentations, mixing the reflections of the camp rabbis with the
insights of a collection of talented camp directors. Reserve some time for Q
& A, and the session would quickly be over. Our planning session could have ended then and there.
That is, until
Ruben Arquilevich
, Director of Northern
California's
URJ Camp Newman
challenged us to fashion our program session in
the image of what happens effortlessly at camp. With that one comment, the
ideas started flying. How do we
craft a presentation session for the biennial that captures and shares the
"magic" of camp?
Any camp staffer knows that what might appear to be
effortless fun and recreation at a Jewish summer camp is actually quite
intentional, as camp staff work diligently (and late into the night) to create
strong interpersonal relationships and communities of meaning.
Ruben's piercing comment got us all thinking, and in
minutes, the program transformed: Let's begin with some music; singing is
camp's spiritual glue. How about adding in some personal stories of how camp
has transformed the life of one former camper, now camp parent/camp rabbi! Oh, let's gather participants with like-minded
people – former campers together, congregational leadership wondering how to
invigorate their camp delegations, people who don't know what Jewish camping is
about, camp leaders/staff – and have them talk about something in small
groups. After all, camp is all
about meeting new people and making new friends.
Oh, burning questions. Invite people to share their burning
questions with the group by means of old-fashioned poster board technology.
Then the camp directors can respond to real questions and concerns, raised by
real people to ensure that everyone walks away with better understandings of the
strategies and tools used at camp to connect, inspire, and engage kids in
Jewish life and learning. To set
the mood, we can throw into the background some pictures, quotes and
mini-videos from summer camp 2011. How about ending with a big friendship
circle, singing Hashkiveinu, like
most camps end each day?
In just an hour, our draft plan for serial frontal
presentations transformed into a musical, experiential, informational, and
technological camp-like program.
And we on the call were reinvigorated by an energetic camp programming
process to recreate camp for biennial participants. I cannot wait for URJ Biennial to start!
So don't miss our session –
How do we Connect, Inspire, and Engage Kids: What We've Learned from
Camp
– on Thursday, December 15, 10:30 AM to 12:00 PM (during Learning
sessions Block C). Once you sign
up, help us focus our program even more.
Go to our session page on the
URJ Biennial website
and leave a comment
on
why you chose to attend this session
and/or what burning questions do you bring to it
. We will use your responses to better prepare an engaging
session.
We – Camp Newman Camp Director Ruben Arquilevich, Rabbi Paul Kipnes, Greene Family Camp Asst. Director Rabbi Ana Bonnheim, Camp Harlam Director Aaron Selkow, Rabbi Phyllis Sommer, and URJ Associate Director of Camping Lisa David – look forward to seeing you there.